Today marks the start of INDEPENDENCE WEEKEND, which this year, for anyone building a small business in these uneasy times, feels a little different. If you're not in the United States, this is the weekend we shoot off fireworks, go camping (my favorite), or head to a friend's house for a pool party and barbecue (my second favorite).
But because it's 2020, and because Arizona (where I'm located) has been burning like crazy lately, this year's Independence weekend will look a little more subdued for many. Parties are canceled. Fireworks are grounded. And instead of wallowing in what seems disappointing, I vote we shift our mindset and use this time to pivot.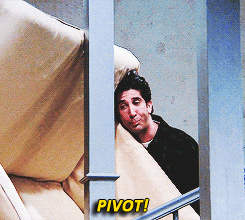 I can't help but think of Ross Gellar shouting to his buddies "P-I-V-O-T" while maneuvering a giant couch up the stairway whenever that word pops up. Beyond it being one of the best scenes in such a classic show, it might just also be a perfect representation of how we're supposed to approach a year like this one where we're all awkwardly moving our business (the couch in this analogy) up a clunky, tight staircase to a new level and a new time.
Building a Small Business on a Small Staircase
Ever heard of the S Curve of Business? As the name suggests, it's a curve shaped like the letter S that showcases what it's like to grow a business. Sometimes things hum along at a steady upward pace, and then sometimes, in the middle of the curve, they stall forcing us to change our posture and push that growth back up. Here's a simplified version of what this looks like this from one of my favorite companies (and one I've worked with for several years and counting), RocketSource:
Right now, it's safe to say we're at one of those turning points, much like Ross was on that staircase. And ya know? It's a messy place to be right now. It's also frustrating. It often makes us want to shout at our quaran-team just like Ross shouted at his friends.
Community is Essential When Building a Small Business
That shouting and frustration and confusion and fear of dropping the dang couch is what led me to want to host the pop-up mastermind on Wednesday.
If you weren't there, you can catch the replays for FREE in the Facebook group here.
In this pop-up mastermind, we talked about:
How to inject revenue into your business without constantly discounting your goods or throwing your hands into the air because you've been forced to close your brick-and-mortar doors yet again
Communication strategies to drive loyalty and sales during this time instead of falling to the wayside while a competitor swoops in and steals the limelight
How to leverage technology during this time to keep your business engines humming
How to stay productive, even when routines get shaken and kid's school schedules keep getting pushed back or pushed online
Each session built upon the other and ended with a solid little q+a session where we chatted mindset and voice during these times.
If the feedback I received both in the group and privately is any indicator, these conversations prompted ideas, inspiration, and energy for how to move forward in this uneasy world.
At the end, I also shared that I'd raised my rates on my course, The Focus-Driven Biz, which is THE course designed to help you accelerate through crazy uncertainty without distraction. Because I'd hiked those rates pretty quietly, without the offer to get in before the price went up, I'm offering one last entry in the door at the lowest price this course will ever be again.
There is time to get in before the price stays at $497 for the foreseeable future.
From now until lucky-number July 7, save $200 on the course using the code SUMMERLOVE.
This course is designed to help you navigate these wild times and keep you, ahem, focused on where 2020's taking you.
If you have questions about whether this is right for you, hit me up on Instagram, and let's chat. No hard sales. Promise! That ain't my style.
See you in the replays and in the course?